Phuket
BISP Swimmers Shine on the International Stage this Summer
The just ended summer holiday was anything but a break for two of our outstanding BISP swimmers, Jaidee and Duana. These young athletes showcased their immense talent and dedication by competing at prestigious national and international swimming even
By: Easy Branches Team - Guest Posting Services
---
Aug 31 2023
43
4639 Views
The just ended summer holiday was anything but a break for two of our outstanding BISP swimmers, Jaidee and Duana. These young athletes showcased their immense talent and dedication by competing at prestigious national and international swimming events.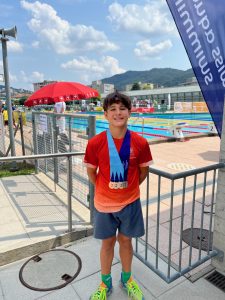 Year 9 student Jaidee displayed his remarkable swimming talent at the Swiss Nationals. After an impressive performance at the Thai Nationals in April, Jaidee continued his rigorous training to prepare for the Swiss Nationals in mid-July. His hard work paid off as he qualified for multiple events, including the 200m Free, 200m IM, 400 Free, 100 Breast, and 200 Breast. In these challenging competitions, Jaidee secured top positions, earning second place in the 200m Free, 200m IM, and 100 Breast, as well as a commendable third place in the 400 Free.
His accomplishments reflect his dedication and skill, making the BISP community incredibly proud. To further enhance his training, Jaidee had the opportunity to train with Coach James Goddard at Wellington College in Bangkok for three weeks. This valuable experience will undoubtedly contribute to his future success, and we extend our gratitude to Coach James for his support.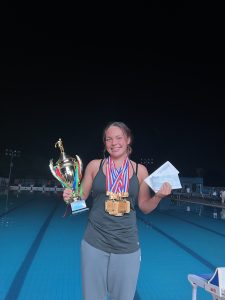 Meanwhile, BISP Year 12 student Duana, representing Nepal, made waves at the World Championships held from July 14th to 30th in Fukuoka, Japan. She competed fiercely in the 100 and 200-metre freestyle events, demonstrating her remarkable skills and determination on the global stage. Additionally, Duana celebrated remarkable achievements at the Nepalese National Games, where she secured an impressive six gold medals and set a new national record in the 50-metre breaststroke event. Her exceptional performance earned her the highest FINA points and the overall trophy, highlighting her as a true swimming sensation.
Both Jaidee and Duana are now gearing up for their upcoming competitions. We wish them the best of luck and look forward to updates from their exciting journey.
These achievements of our BISP swimmers serve as an inspiration to our school community. We eagerly anticipate their future successes as they continue to represent BISP and their respective nations on the international swimming stage.
Congratulations, Jaidee and Duana, on your remarkable accomplishments!
Related
---